Employee Spotlight: Andrew Rackiewicz, Head of Brands and Research Partnerships.
Learn the truth about what it's like to work at X-Mode, the privacy-conscious location data company, from our Head of Brands and Research Partnerships, Andrew Rackiewicz.
It takes a lot of hard-working people to build a company as effective and game-changing as X-Mode. While we stay busy raising the standard for privacy and quality in location data, it's also important to pause and celebrate all of our talented, delightful team members that make everything possible. With no further ado, please enjoy our monthly employee spotlight on our Head of Brands and Research Partnerships, Andrew Rackiewicz!
Joseph Green (Content Manager): What is your title here at X-Mode, and what do you do on a daily basis?
Andrew Rackiewicz: I came to X-Mode to be the Head of Brands and Agencies, but I have transitioned into being the Head of Brands and Research Partnerships. I consider myself a storyteller first and foremost; what I really do on a daily basis is help our clients find the best use for our data in a way that fits in with their unique identity. This includes commercial clients, but increasingly it also encompasses academics and other research partners as part of our Data for Social Impact initiative, Picket.
The pandemic has presented so many challenges to businesses. But it has also been a time where stakeholders have taken a step back, assessed their strengths, and decided to pursue really interesting new directions. For the brand partners I work with, a big focus right now is on having ownership of the data more than ever. At X-Mode we see this shift as a great opportunity, because we're really in the business of empowering our clients, not just profiting off of them. We want them to take this data we provide and develop innovative use cases that we might never have even thought of. It's all about realizing the full potential of high quality, SDK-sourced location data, while always keeping consent and privacy front and center.
J: Tell me a little bit about your transition from the commercial side to the research-driven, Data for Good part of the company.
A: My transition from Brands and Agencies to helping out on the research side was gradual. Over time I just came to realize that the demand for our raw location data in the Ad Tech space was aligning in a really interesting way with a similar demand from researchers. Both sectors faced a lot of unique challenges with the onset of the pandemic, and both were increasingly turning to location data for the solutions it offers. After we helped empower UVA with their location data research, and after a couple of our big press moments around the pandemic, the unique capabilities of X-Mode's location panel became apparent to a lot more people. 
As we began to talk with more researchers eager to sink their teeth into our panel, I knew that we had found a niche worth exploring. My job, as I see it, is to find a way to meet the needs of these researchers while also developing a reasonable monetization strategy. Obviously, a big part of Picket is that we are providing data for a cause more meaningful than the bottom line; we are not going to charge an underfunded researcher or a nonprofit the same amount we charge a big Ad Tech client. But at the same time, I really saw an opportunity to create something bigger than just individual, one-off use cases. What we are trying to do now is make connections at a high level with universities to leverage an ongoing set of data. We are still offering an extremely generous sample set of data to researchers, free of charge, but we are now more interested in moving beyond that into more substantial partnerships. That way, we can empower continuous research rather than just ad-hoc projects. That, I really believe, is the future of Picket.
J: What brought you to X-Mode in the first place?
A: I've been in the advertising space for a long time. In that time, I've worked with plenty of third party data providers. Believe me, all of them say the right things. They all claim to put the consumers first, they all claim to care about privacy… but actions speak louder than words. And X-Mode puts their money where their mouth is in a way that I've never seen before. Privacy isn't seen as an obstacle here, it's seen as a core selling point. We work closely with our app publisher partners to prioritize consent, to make sure that they are collecting location for a use case that provides a real value to the users. We are transparent with users about how the data they share is leveraged, whether that's to help prevent cyber crimes, to improve digital marketing strategies, or to help monitor and prevent the spread of COVID-19. Our belief is that the solutions powered by your location data should also benefit you. That is a mission I am proud to be a part of.
Another great part about working at X-Mode is the company culture. A lot of companies get culture wrong. They think that it's about free food, or ping pong tables, or extra days off. Of course, there's nothing wrong with any of those things… I'll take all the free food they'll give me. But all of those little perks don't add up to a strong culture. What really matters for culture is that everyone who works at X-Mode shares a common mission. From top to bottom, we are all committed to setting the standard for a young, exciting industry. That means putting privacy front and center, even when it would be easier and cheaper to cut corners. That means saying no to partners when we're uncomfortable with the way they want to leverage location. Again, this unflagging commitment to central values is what makes X-Mode a great place to work.
J: Let's get a little more into some of the specifics of your work. What do you do in your capacity as Head of Brands?
A: Well, brands is a pretty broad term isn't it? What it really means for my job, though, is an advertising strategy. How can brands best use raw location data and location-based audiences to solve problems? Currently, brands spend a lot of time and money on different advertising and marketing channels. For everything they put in, though, they don't always get a lot of information in return. Who saw these ads? What actions did they subsequently take? How might the ads perform better with a different audience? X-Mode steps in and fills those gaps with insights into real-world customer behavior. So the strategy becomes less spray-and-pray, and closer to something laser-focused. 
J: How has your work been affected by the pandemic?
A: Well, on the one hand, I am now working from home with two kids under the age of six. That obviously has made my routine a little different than before, but overall it is just such a blessing. I know that not everyone is lucky enough to spend this time with their family, safe at home, and I really consider myself fortunate to be able to do that. X-Mode had to transition to remote work pretty quickly, but I really think they did a great job. There's been very little growing pains in that regard; the company has had its best year ever, in fact. It feels great to work at a company that's so flexible and adaptable to the needs of its employees.
J: What do you think the location data industry will look like in a year's time? What will be different, and what will stay the same?
A: I'm expecting a seismic shift from quantity to quality. Improved consumer privacy tools at the device level and increased regulation at the industry level will inherently reduce the total location data supply. No one seems to be willing to commit to just how significant a reduction (I've heard estimates from 30-70% of the existing location data). But it's clear this has massive implications for data aggregators and identity products who have relied on the scale of less privacy compliant location data. 
How we "connect the dots" to determine device behavior across platforms becomes significantly more difficult as customers will now have to opt in to advertising use cases. For brands, this will mean a much smaller pool of location data to leverage for identity targeting, attribution modeling and device panel enrichment.
So winning with location data will look different. And frankly a lot less creepy. I think the companies who provide smart device owners the best, most transparent incentive to consent their data will win the opportunity for personalization. What they do with that data will determine the long term viability of location data as a service beyond 2021.
J: What do you like to do when you're not working?
A: Ideally I turn the screens off and go explore life as a family.I'm a performer at heart and it manifests these days in any opportunity to  volunteer, coach, and to teach to an active audience. That just kind of comes naturally to me.. I love to sing and play guitar… my wife and I even met in college through an a cappella group! (It's a lot different than an episode of Glee, I promise you.)
J: Finally, do you have a motto that you like to live your life by?
A: One that immediately comes to mind is "help others thrive." I like to see my position at X-Mode, working so closely with these brands and researchers on how to best use our data, is powered by this idea of helping others thrive, so that we can all succeed together.
Thank you, Andrew! At X-Mode, we work hard, we grow together, and we are driven by teamwork. Does our office sound like a place you'd fit in? Check out our careers page today to see if there are any positions with your name on them.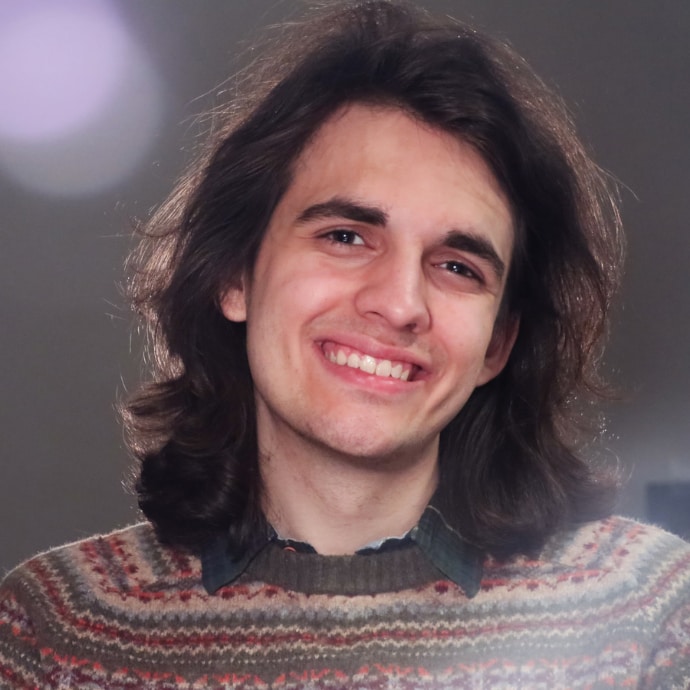 Joseph Green
Writer
X-Mode