Employee Spotlight: Christopher Houston, Director of Design.
Learn the truth about what it's like to work at X-Mode, the privacy-conscious location data company, from our very own Director of Design, Christopher Houston.
It takes a lot of hard-working people to build a company as effective and game-changing as X-Mode. While we stay busy raising the standard for privacy and quality in location data, it's also important to pause and celebrate all of our talented, delightful team members that make everything possible. With no further ado, please enjoy our monthly employee spotlight on our Director of Design, Christopher Houston.
Joseph Green (Content Manager): Can you tell me a little bit about your history at X-Mode, and your current position?
Christopher Houston (Director of Design): I was hired because X-Mode was looking for a UX design lead with experience creating front-facing products. I happened to have a background creating award winning user experiences within the publication and news media industry, so I definitely had the resume. But more importantly, the job lined up with my goals: That was to lead a team, to take on a mentorship role, to take on new UX challenges, and to provide expertise all while contributing to a common team goal. Basically, I was looking for something more meaningful than just taking home a paycheck. Lo and behold, seven months after I started, Josh (CEO) and Jake (CMO) came to me and said: "We want you to help us spearhead a new creative direction for the company, and we want to give you the team and resources to make that possible." 
I ended up becoming the design director, and I was tasked with growing a team. It was exactly what I was looking for. While I had been in leadership positions before, this was the most managing I'd ever done. Obviously it presented me with challenges, but it's been incredibly rewarding as well. Watching the team grow and thrive under my leadership… that is just such a great feeling. I see so much productivity and positivity within my design team. They've really become culture champions for the company, just because they work so hard and are so encouraging to each other.
J: I know you've had a pretty varied career, from touring the world as a musician,  to working at publications like USA Today and National Geographic… how does X-Mode compare to some of the other places you've worked?
C: Well, there are different challenges to working at a larger company versus a small startup.Obviously working for an established brand there are opportunities and a level of exposure that you can't get elsewhere. However, the drawback may be the amount of red tape, sign-offs, approvals, revisions, and the amount of time it takes to get approval. At a startup, you have the advantage that it takes less time to get approvals because the company is more lean, more flexible. That keeps creativity fresh, and inspiration high, allowing you to do a variety of projects across different departments. At the same time, there's often a limitation on resources. Having to do more with less provides an entire new level of challenges that encourages improvising to achieve the best results.
For me, it's never just about the job. It's about the experience. I spent ten years in publication design, and while I was technically "successful," I also really felt like I plateaued. I was doing the same thing for such a long time, and I'd figured out all the processes so much that there really wasn't any problem solving aspect left to it. It wasn't that I was bored of design, it was just that there was no creativity left in what I was doing.
So I took a long pause. I took eighteen months to figure out what I really wanted to do with my career, with my life. The biggest thing I discovered during that time was that I wanted to give back, I wanted to be challenged, and I wanted to be a part of something bigger than myself. I could've stayed in publication design and still had a very successful career, but I would've been stuck on that plateau. I needed a complete change-up in order to get more out of my work. And that's what I found here at X-Mode.
J: You really took a leap, didn't you? You were in a comfortable position in your previous job, yet you decided to take a step into the dark. Most people never take that kind of leap, how did you do it?
C: That's how I've always done it. That kind of risk-taking has been ingrained in me since I was a kid. You mentioned my music career, and it was the exact same thing with that too. If I can visualize myself somewhere in the future, whether it's the next day, or the next year, then I believe I can accomplish it. That's been my life philosophy for as long as I can remember. And it's paid off so many times. Always trust your gut… 99% of the time it's going to be right.
That being said, it also means you're going to be working really hard most of the time. And back when I was making music, I was also working a day job. So I would come home from work at night and I would get right to work again. I live by the philosophy that you're born with two hands, so you can probably do two things really well at any given time. Work on design during the day, record music at night, or whatever it may be for you. (Bringing in a third thing doesn't really work though. Most people don't have three hands!)
J: I'm glad you brought up the music, because I know creativity is really important to you, and to your work here at X-Mode. Can you explain a little of your creative philosophy and process?
C: My approach to design is very analogous to my approach to recording actually. When you're building a track, on Ableton or GarageBand or whatever, a song is made up of plug-ins, loops, and all of these different individual components. You work on those separately, or you build them from a template, and then you add them into the whole. You tinker, take risks, and find the things that are working as well as the things that aren't. What starts as a disconnected jumble of parts starts to come together. All the different parts begin to harmonize, and soon enough you have a cohesive whole.
That whole mindset works in design as well. I've applied the idea of modularity — of building these elements over time, then iterating and modulating them into different final products. Each design is made up of individual, nested assets. Those can be moved around, dragged and dropped… the more I think about it, the more I realize it is exactly like producing music. 
There's another component of my design philosophy that is very important, and that is the fact that I don't believe in the word perfection. You can strive to be great, but being perfect is an endless cycle. You can always look at something in a design, or a song, or a piece of writing, and want to finesse it or approach it from another angle. Your skill sets might improve, or your design approach might change… 'perfect' and 'final' don't recognize the reality of being a creator, which is that you are always evolving.
J: What role does creativity play at X-Mode?
C: When me and the team were designing our branding and aesthetic, we knew we needed to find a way to visually represent the company's values. We were a new face in the industry, a young company with a different energy, and we really wanted to differentiate ourselves in every way. We would be the company that cared about the human side of this industry; we'd put extra care and thought into our products and our designs. 
That mindset has been front and center during our whole design process. It can be seen in our colors, in our focus on organic shapes and soft lines… Even our logo embodies this. It's an X, sure, but it doesn't have a lot of straight edges or points. Instead it is rounded, organic, and it's actually designed to look like a flower. We wanted to move away from the idea of the company as just a profit-generating machine, and embrace the softer, more human side of technology.
J: One last question I think: who are some of your heroes?
C: I don't know if I have heroes, per se, but I do have some pretty big influences when it comes to design. And most of them come from movies. So a really big one is Stanley Kubrick's 2001: A Space Oddysey. Another is Ridley Scott, especially Alien and Blade Runner (my favorite movie.) It's all about designing this entire world, in such a meticulous and cohesive, but also totally imaginative way.
Oh, and of course Steve Jobs! I worked on the initial Apple store when they were opening it up… believe it or not, that was a big risk back then. They didn't know whether it'd be successful or not, and Jobs just took that huge risk. I really admire that; being a part of the Apple store was probably the closest I had to a startup mentality before I came to X-Mode, and again it was a super rewarding experience.
Thank you, Christopher! At X-Mode, we work hard, we grow together, and we are driven by teamwork. Does our office sound like a place you'd fit in? Check out our careers page today to see if there are any positions with your name on them.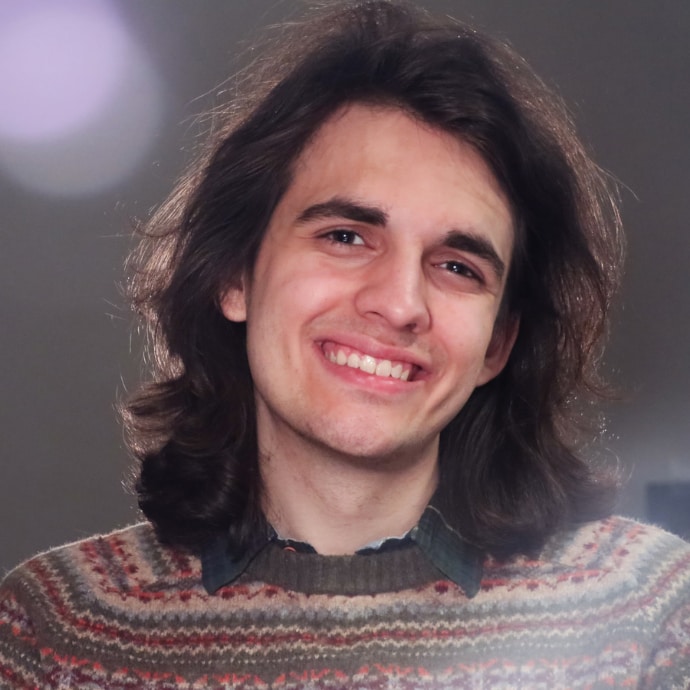 Joseph Green
Writer
X-Mode