Employee Spotlight: Peter Connolly, Data Manager.
Learn the truth about what it's like to work at X-Mode, the privacy-conscious location data company, from our very own Data Manager, Peter Connolly.
It takes a lot of hard-working people to build a company as effective and game-changing as X-Mode. While we stay busy raising the standard for privacy and quality in location data, it's also important to pause and celebrate all of our talented, delightful team members that make everything possible. With no further ado, please enjoy our monthly employee spotlight on our Data Manager, Peter Connolly.
What do you do at X-Mode, and how does it impact the rest of the company?
I manage the data team. We are responsible for creating all derivative data products, and producing reports on those products. Right now we're creating aggregate data stores — or cubes, as we call them. These give us a view of the aggregate of our data, and we can use them to do analysis. We're creating a store that gives a view of all our visits, a view of all of our applications, a view of all of our advertisers… I would like to create a view for each export too. There's a lot of stuff we're just starting to build now. In some ways the team is just getting off the ground.
We also have the responsibility of answering questions about the data, which involves doing ad-hoc queries of the data and canned reports. But we're also working on making a lot of dashboards so that folks can answer questions about the data on their own. Some of the requests we answer are pretty complex, and involve us doing analysis on the data to understand underlying patterns.
I am a manager, but my team has been with the company a long time; they're all self-starters, and don't need a lot of micromanaging. So I would say I spend 90% of my time hands-on with the data, and maybe 10% of my time helping out team members who need more guidance and supervision. As we build out these derivative data sets there will, I believe, be a lot more opportunities to work with various team members. But I see that more as collaborating on a project rather than "managing." The whole team is also involved in the recruiting and hiring process, so that takes up some of my time as well.
What drew you to X-Mode originally?
I had worked in the location space in the past, and with big data, and I had really enjoyed it. When I joined X-Mode, I was looking for a couple of things. The first was I wanted to continue to work with big data and data science. The second was that I was looking to work from home, and X-Mode was remarkably flexible in that area. Remote work interested me, and it's worked out really great.
I'm really attracted to the nuance of geospatial data; I find it to be a really interesting problem set. Compared to other kinds of data, there are very few columns if you will. Really all we're looking at is latitude, longitude, time stamp, and some sort of anonymized Ad ID. It's fascinating the amount of insights we can derive from such a seemingly limited set of parameters.
What is your proudest professional achievement since joining X-Mode?
Probably updating the Visitation Algorithm. The entire location industry is based off of locating a device within a polygon, and then deciding whether that means a visit took place.  We wanted to create the highest quality version of that — to "create the standard," so to speak. So we invented a new algorithm that looks at the probability that a device actually visited a specific location. We took into account dwell time, as well as the accuracy of the data itself (70% of X-Mode data, for example, is accurate to within 20 meters or less.) With that algorithm built, we can assign a confidence score to every visitation we record. I would say that's my proudest achievement just because of how monumental a task it was.
What is it like to work at X-Mode?
I like that there's no red tape to wade through at X-Mode. People wear lots of hats, and because of that you can make an impact in a lot of different parts of the company. While I wouldn't call us a startup anymore, per se — we're not working ninety hours a week out of someone's garage — I do like how we have the maturity of a larger company while retaining the nimbleness of a startup.
What is your favorite memory of your time at X-Mode?
I'd have to say going on the company retreat and getting to meet the rest of my team in person. Often times when you're working remotely it can be all business, and it's more difficult to get to know your coworkers as people. I really enjoyed that and found it useful.
What TV show are you currently binge watching?
The Americans. It's pretty good.
What's your favorite place that you've ever traveled to?
I would say Paris. My wife and I went there right before we had kids and it was awesome. We walked all over that city, maybe ten miles a day. We hit all sorts of museums and had chocolate croissants every morning. My favorite museum was probably The Louvre, though I don't think we even hit a quarter of it.
When are you at your happiest?
Probably on the volleyball court. I've been playing volleyball for about fifteen years now.
What is a motto or mantra that you live by?
"What doesn't kill you makes you stronger." Maybe it's weird to pick a Nietzche quote, but I really like that one.
Thank you, Peter! At X-Mode, we work hard, we grow together, and we are driven by teamwork. Does our office sound like a place you'd fit in? Check out our careers page today to see if there are any positions with your name on them.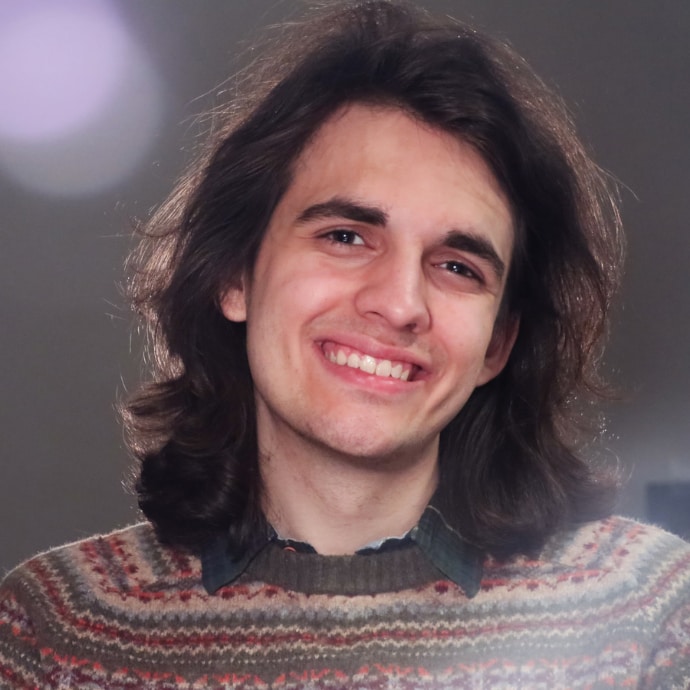 Joseph Green
Writer
X-Mode