Employee Spotlight: Jessica Simmons, Director of Marketing
Learn the truth about what it's like to work at X-Mode, the privacy-conscious location data company.
It takes a village to raise a child — and it takes a lot of hard working people to build a company as effective and game-changing as X-Mode. While we stay busy raising the standard for privacy and quality in location data, it's also important to pause and celebrate all of our talented, delightful team members that make everything possible. With no further ado, please enjoy our monthly employee spotlight on Jessica Simmons.
What do you do as Director of Marketing at X-Mode? What impact do you have on the rest of the company?
One thing that's great about my job is that it's not very monotonous; I get to do different things every day. Overall, I really manage our advertising, for X-Mode and for our SDK clients. I kind of run that show. I also work on reporting for sales, email campaigns, lead generation, search engine marketing… all of our outbound marketing. Lately, I've been helping a lot with building our programmatic presence as well. 
As for the impact I have on the rest of the company… on the advertising side, my work gets people interested in our products and our data. I get people to come in as a warm lead, get them in the door, and move them to the sales team so they can close deals. I also help our clients a lot. I help them run Facebook ads and other campaigns; this helps our clients get more users, and also expands our own panel.
Tell me the story of how you joined X-Mode.
I actually started before it was X-Mode, back when it was a college drinking app called Drunk Mode. I kind of started as an intern; I was a campus rep for the app at the University of Alabama. I also knew our CMO, Jake Ellenburg, and he brought me in to help with some social media and other, general marketing work. That was back in 2014. From there, I helped with research projects, worked on social media, and just kind of moved up in the company until I graduated. I moved up to Drunk Mode HQ in Virginia right after college, and right around that time was when we pivoted to X-Mode. I stayed on for a while as the Community and Content Manager, and over time I grew in that role and became the Director of Marketing. 
What has been your proudest achievement since joining the company?
Back when we were Drunk Mode, we didn't really have any sort of marketing budget. We did some grassroots, growth-hack type promotion… talking to users directly on Twitter and stuff like that. As the company grew, though, I was really the first person to fight for us to actually start advertising. I was able to prove that, even with a small budget, paid advertising could really drive our conversion rate. I had my first success advertising on Reddit, which really wasn't something we'd done before. Ever since then, I've been able to expand the ways that we advertise. Josh [CEO of X-Mode] really took a risk back when we were such a small company, giving me an advertising budget. I really showed him what we could do, and ever since then that's been one of my proudest achievements. I was able to take something small, turn it into something a lot bigger, and that's really what my career has become all about.
What would you say are some of the biggest misconceptions about working in a startup?
The biggest misconception is just the idea that we don't do anything. A lot of people think startups are just companies founded by millennials, who maybe have one really crazy idea, then just end up burning through money without actually making anything. That's a misconception. Startups are founded by very passionate people, by people who are really conscious of what they are doing. We're very diligent at X-Mode, and we're very invested in what we are actually creating.
How has working at this company helped you grow in your career?
One thing that I've loved about working here is that everyone here, from top to bottom, is always encouraged to keep on learning. It's never "here's what your duties are, here are the only things you can do." No. You are always encouraged to keep on growing. If you can identify something you're interested in, and think it can benefit the company, you are given the time to learn more about it. As a company, we really invest in people. That's helped a lot in my career: I've been given encouragement and support to grow in my career and become better at what I do. Even outside of work, I think that' just a good way to live your life. To always keep in mind that sense of wonder and curiosity, that eagerness to learn.
What is your favorite memory of your time at X-Mode?
It may not be my favorite memory, but it's definitely the one I go back to the most. And that would be our first ever retreat back when we were Drunk Mode. It was ten of us in an Airbnb in DC, and we stayed there for four days. It was claustrophobic at the time, but I like to look back at it and just see how far we've come. I met a lot of people in the company for the first time there. I met Josh, Jamie [Chief of Operations,] Justin [Lead Android Engineer] and so many other people who are really important to me now. It's funny to look back at us, just sitting around a table in an Airbnb, brainstorming about new features for our little app. Now look how far we've come. Looking back, I see a group that never gave up, and that has just come so far.
What TV show are you currently binge-watching?
I watch a lot of TV. Right now I'm watching a lot of Ballers on HBO, featuring The Rock.
What is the coolest place you have ever traveled to?
My favorite place I've been in the last couple of years is Chicago. I really just fell in love with that city. It's like a smaller New York, but just so much more charming.
When are you the happiest?
One thing I like to do is what I call nesting. After a long day of work I lie on my couch with a weighted blanket, a glass of wine, my dogs, and just watch YouTube vidoes. That's when I am the happiest.
What is your secret hidden talent?
People don't know this, but I play quite a few instruments. I've played trumpet, french horn, bass guitar, a little bit of guitar… I was learning the violin and piano at one point as well. Not a lot of people know that.
What is the motto or mantra that you live by?
That's a tough one. I have to say it's just "make my family proud." That's behind everything I do.
Thank you, Jessica! At X-Mode, we work hard, we grow together, and we are driven by teamwork. Does our office sound like a place you'd fit in? Check out our careers page today to see if there are any positions with your name on them.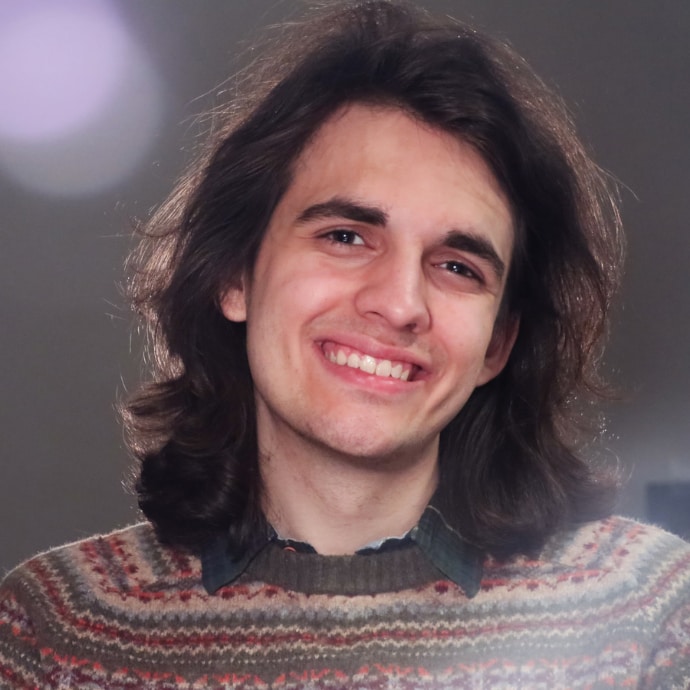 Joseph Green
Writer
X-Mode