Employee Spotlight: Trey Cahill, Backend Engineering Manager.
Learn the truth about what it's like to work at X-Mode, the privacy-conscious location data company, from our very own Backend Engineering Manager, Trey Cahill.
It takes a lot of hard-working people to build a company as effective and game-changing as X-Mode. While we stay busy raising the standard for privacy and quality in location data, it's also important to pause and celebrate all of our talented, delightful team members that make everything possible. With no further ado, please enjoy our monthly employee spotlight on our Backend Engineering Manager, Trey Cahill.
What is your title, and what do you do on a day-to-day basis?
I am the backend engineering manager. On a daily basis, I do a lot of development, product planning, sprint planning… I'm often a general tech lead so I help other engineers when they're stuck. In addition, I do some general managerial tasks: making sure my team is getting their work done and that they have everything they need.
When it comes to the time I spend managing versus actual engineering, I would say right now it's about 50/50. That's pretty good, but I think it'll be more like 25/75 once a couple of our engineers get onboarded more… once they've worked with us fora  while, engineers tend to be pretty self-sufficient.
I really prefer development to managing, personally. In my last job — which was for a bigger company — I was an engineering manager, and I didn't like that so much. I didn't have a lot of latitude there, as opposed to X-Mode, where teams are really given the time and space to get done what they need to do. It's less hands-on, and a lot more trust based here. So there's a lot of freedom, but also a lot of responsibility. That's the kind of work environment I like.
Is that what drew you to X-Mode originally?
Definitely, I've always thrived more in the smaller company, startup space. X-Mode was also in a field I didn't have a lot of experience with — geolocation — but that I was very interested in. X-Mode really took a risk on me as someone with less location experience, and I'm really grateful that it worked out so well.
How has working at X-Mode helped you learn and grow in your career?
Starting out, we had a pretty small team, and I had to pick up a lot of new skills quickly. But even back before I was a manager, the company gave me the opportunity to learn for myself and figure things out really quickly. I mean, they gave me my first project and really just said: "go do this. figure it out." Importantly though, they also gave me space to fail. That's a really underrated opportunity. Because when you fail and it's not the end of the world, you can learn from my mistakes. And that is really how you grow. 
What would you say has been your proudest professional achievement since joining X-Mode?
I would have to say that has been the Phase 2 Exporter, which allows us to easily ship data to other vendors' buckets as a separate process. The tool might not be seen as anything particularly special… except that it almost never fails. Nobody at the company ever even thinks about it, because it just always works. It's almost in the background, it's so reliable. That is a successful project to me, and being a part of that makes me proud.
What are some of the major differences between working in a larger company and working for a startup?
One of the things I really dislike about larger companies — but also something I learned from —  is that they can be very traditional and hierarchical about their processes. Only certain people will be allowed to determine processes, and if you see something broken you can't just go in and fix it without wading through a sea of red tape. At X-Mode, nobody's going to get mad at you for making something work better. We don't have the time or the resources to be that bureaucratic, and so I really have the freedom to do the work that I need to. When I find something broken, I don't just leave it for someone else to stumble over it. I fix it.
What are one or two of your favorite memories at X-Mode?
One of my recent favorite memories is when I learned that the company has turned down potential vendors — turned away revenue, that is — because their use cases did not line up with our company ethics. I really appreciate that we have the integrity to draw a line in the sand, and stand up for something bigger than just the bottom line. That makes me proud to work here.
Another favorite memory — and this one is a little less serious — happened during my first retreat when I started working. The first time Josh (CEO) met me, he gave me a big hug. That was a little different for me because I'm not really a hugging person. But it reinforced to me that the company is really a family.
What TV show are you binging right now?
I just finished Umbrella Academy on Netflix. I loved it! I'm not normally the superhero type, but there was just something really great about that show.
What's the coolest place you've ever traveled to?
I ran a race out in the Black Mountains in Western North Carolina. The trail went through a state park on some really remote trails… the view was stupendous, and I would love to go back there again.
When are you at your happiest?
When I am outside in the garage with my dogs. I have two golden doodles. We got our second dog a couple months ago. We were hesitant about it at first, but the two of them have really become best friends. I can't imagine going back to just one now.
Do you have any secret hidden talents?
I do a little woodworking. When my wife wants to buy some furniture, and I think I could make it for cheaper, I usually make it myself. I'd say it stays together about fifty percent of the time. 
What is a motto or mantra that you live by?
I love Wendell Berry and he has so many quotes that have shaped my day to day life, but this quote really speaks to me a lot more:
Thank you, Trey! At X-Mode, we work hard, we grow together, and we are driven by teamwork. Does our office sound like a place you'd fit in? Check out our careers page today to see if there are any positions with your name on them.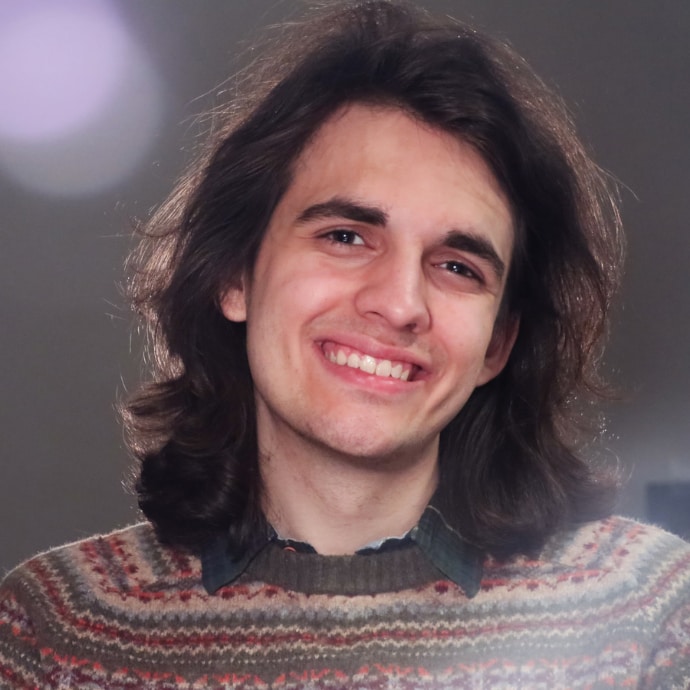 Joseph Green
Writer
X-Mode