Employee Spotlight: Jonathan Rouse, Designer
Learn the truth about what it's like to work at X-Mode, the privacy-conscious location data company, from our very own designer Jonathan Rouse.
It takes a village to raise a child — and it takes a lot of hard-working people to build a company as effective and game-changing as X-Mode. While we stay busy raising the standard for privacy and quality in location data, it's also important to pause and celebrate all of our talented, delightful team members that make everything possible. With no further ado, please enjoy our monthly employee spotlight on our designer, Jonathan Rouse.
What is your title at X-Mode? 
My title right now, I believe, is just designer. But it could really be a number of different things depending on what time of day you ask me. I do a hundred different things during any given day, all of them related to design.
What do you do at X-Mode, and how does it impact the company?
Anything that requires professional design, except for social media, all of that goes through me. I do User Experience design, which is mostly about planning and laying out information. I do User Interface design, which involves creating the visual interfaces of our various products. One of those is our website. So I'm the designer for the website, but I'm also the developer. I am also the company's graphic designer, meaning I do all printed work, flyers, booklets, anything like that.
Sounds like you're pretty busy.
Yeah. I'm a powerhouse. (laughs.)
What drew you to X-Mode originally?
Well, the boring answer is that I happened to find the job on LinkedIn. I wasn't sure if I was going to get it because there were so many applicants, but I decided to apply anyway and here we are. What kept me at X-Mode, though, is that I love working at a company that respects design and also respects me. I immediately felt like my work was respected here, which I haven't always felt in other jobs.
What has been your proudest achievement at X-Mode so far?
That would have to be my magnum opus, our new website. I struggle sometimes working with a separate web developer, because the ultimate product doesn't always visually match my designs. With the new website, however, as the designer and the developer, I had full control. It was by far the most difficult project I've ever worked on because I had to deal with every part of the project myself. At a certain point, I realized that I was just going to have to figure it out because nobody else was going to do the job for me. So I just took the initiative and got it done, which I think is an important skill for anyone to learn.
What is it like to work at a startup? Is it different than what you thought it would be?
Admittedly, I didn't know that X-Mode was a startup before I started working here. But I've always loved the idea of working for one. To answer your question, I was actually surprised at how well I fit into the startup culture. In college, I explored a lot of different paths in design, which gave me a very broad skill set. That's perfect for a company where you have to wear a lot of different hats — in other words, a startup. I also do really well when a boss lets me do my own thing and doesn't micromanage me. I definitely prefer to work on my own terms. Once again, that lets me fit in perfectly at a startup like X-Mode.
How has being at X-Mode helped you grow in your career?
The design industry is very competitive. I would argue it's almost cutthroat. There's a lot of fakers out there who can throw together a quick website mockup, or a quick dashboard, but never actually make anything that's part of a larger project. It's difficult to compete unless you're making real products. But it's also difficult to find a company that will give you the freedom to work on something more creative and build up your skills and your portfolio. Because of X-Mode's management style, and also because of how open they've been to the ideas I bring to the table, it feels like there's no limit on what I can do here. The projects I build are mine, and that helps me to make them better.
What is your favorite memory at X-Mode so far?
Ooh. It would have to be one of three:
Mentoring [Summer intern] Emily and teaching her about design. I teach classes for my professors sometimes at George Mason. It's very rewarding for me to teach others about design. These days I finally feel qualified to teach, like I actually know what I'm talking about, and for that reason, I found that experience with Emily very rewarding.

Working with Owen [X-Mode's information architect, who started out as an intern as well.] I saw what he was capable of doing — researching, managing, keeping track of various parts of a project — and I saw that there was a need for that in the company. I saw the potential in him, and brought him onto my team, and it's been such a great experience for both of us.

Presenting the finished website to Josh, other stakeholders, and everyone on the team. I used to present big projects like that in school, but haven't done it on that kind of scale since then. In the last company I worked for, I wasn't doing things like that. I felt like I was throwing my work into the void and never getting thanked for it or even acknowledged. We've gotten such great feedback on the website, and that has been just so rewarding for me.
What TV show are you currently binge-watching?
I would answer that if I actually watched any TV! I've always had a lot of trouble siting and watching a show or a movie for multiple hours. I really like the shorter format of Youtube videos, where I can watch in fifteen-minute intervals and take a break.
What is the coolest place you have traveled so far?
It would have to be my trip to Los Angeles. Visiting Adobe Max and hanging out with [the writer], drinking martinis on a rooftop bar.
When are you at your happiest?
I'm at my happiest when I am planning out design concepts with Owen. I like to imagine us as Mad Men characters in the 60s, wearing suits, smoking cigarettes, and poring over a blueprint of our incredible designs. I love problem-solving and planning things out.
What is your secret hidden talent?
I drive stick! All of my cars have always had manual transmission. I'm also quite good at motion graphics, which is something I hope to use more for the company going forward.
What is your favorite office snack?
Oh man. It's gotta be the gummies. I love gummy snacks. Anything gummy.
What is the mantra that you live by?
"Fake it 'til you make it." A lot of designers tend to have impostor syndrome, especially when a client doesn't like our work. Because our work is so subjective, it can really hurt your self-esteem when someone doesn't like your work. I've always believed that you don't need a college degree to be a designer. But you do need to have an understanding of the fundamentals of design. Proximity. Color. Relationships between objects. And you probably should have an eye for design too. I feel like I've always been a designer. I live design. I don't turn it off when I go home; I'm always looking at the world through that eye.
Thank you, Jonathan! At X-Mode, we work hard, we grow together, and we are driven by teamwork. Does our office sound like a place you'd fit in? Check out our careers page today to see if there are any positions with your name on them.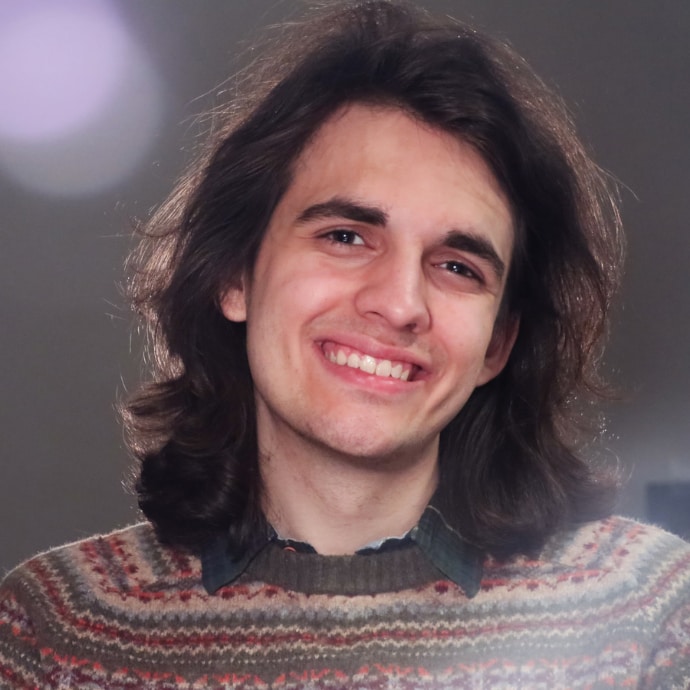 Joseph Green
Writer
X-Mode