Introducing Mike Kalten, X-Mode's New CFO
X-Mode's new Chief Financial Officer discusses his career, the transition from startup to industry giant, and the state of the location industry.
X-Mode is thrilled to announce the hiring of our new Chief Financial Officer, Mike Kalten! Mike enters the company with over 25 years of leadership experience, most recently as the SVP of Finance for Vubiquity Inc., a global provider of premium video services. Before Vubiquity, Mike worked at Nextel, leading the deal team for all diligence and financial analysis during their merger with Sprint, and remaining at the company post-merger as the VP of FP&A. I got a chance to sit down with Mike recently to discuss his new position at X-Mode, his work experience, and his views on the industry.
Joseph Green (Content Manager): How have your first few weeks been?
Mike Kalten (CFO): It's been extremely busy, but it's been exciting. It's been a combination of getting up to speed on the company and getting to know everyone, while at the same time starting a capital raise! That side has taken up most of my time… I'd say it's been both enjoyable and exhausting.
J: What is the the capital raise like? Have you managed that process before?
M: Yeah, I've done that with the past few companies I've been at. The scale was different, but you still have to go through the same process. You get your pitch deck ready for potential investors, you get the management team aligned around the story, you look at your financials, and you get a five year plan put together. Then you go out and do the roadshow of meeting everybody and gauging interest. It can be a major time investment, and it's important to remember that you still have a business to run at the end of the day too. 
J: How did you end up at X-Mode? 
M: A colleague of mine knew that I was starting a search to find a CFO position, so he put me in touch with the recruiter from X-Mode. At the time I had started my search, I knew nothing about X-Mode, or even location data. So when I got a call from them, I started to dig in and do some of my own research. I got excited about what I saw and the potential for the company, and went from there.
As I started to talk to Josh more, what really stood out to me was how he was trying to make privacy a foundational part of the company. That means obviously complying with regulations as they roll out, but beyond that, just really trying to have a higher cause for what the company is doing. I really got the impression that X-Mode is trying to hold the whole location data industry to a higher standard. And after I joined the company, I found out it wasn't just lip service. It really is the foundation and heart of the business. It's ingrained in the culture here.
J: Now, you come into X-Mode at an interesting time for the company, at a moment of growth. Why did the company need a new CFO right now, do you think?
M: I think X-Mode was really looking for someone to take them through this next stage of growth. Someone who has been there and done that, helped other businesses to go from a small venture funding stage to try to really become the dominant player in their market. I am someone who has helped see a company through that kind of growth. I was working at Nextel during the big merger with Sprint, during a major shifting point in the telecommunications industry. I have also worked in acquisitions, and have a lot of experience relevant to run a finance department for a larger company. As X-Mode enters the next phase of its transition from a scrappy startup to one of the major names in location data, that kind of skill set becomes crucial.
J: Drawing on your experience, what does a company have to do at this stage to survive and make that next step?
M: It's really about having discipline about how you grow. The money can come in, but it can also go out the back door just as fast. You need to have some structure and diligence around what type of growth path the company wants to take: where and how to invest, how to make sure that you're looking back on projects and investments to make sure they're achieving what you want them to achieve… You really need to be more strategic, as opposed to just playing cowboy and going off and chasing every shiny object you see.
J: In your opinion, what exactly is the role of the CFO in that process? 
M: I would say the CFO has a dual role in any company. You have your traditional accounting, finance, and treasury roles. But that's probably not even half of it. It's really being a business partner with the CEO, as well as the management team and the board, trying to help develop and execute the company strategy and figure out what's the right path to take and how to steer the business that way. Balancing the books is the easy part: more important is helping the business grow and being a partner with the other parts of the company.
J: Talk to me about your time at Nextel during their merger with Sprint. Could you tell me about your role at that time, what you learned, and how you applied those lessons to your career?
M: I was at Nextel and then Sprint for two more years after the merger, so a large part of my career was spent working there. I started out originally in accounting and worked through a lot of different financial roles. At the time of the merger, I worked in corporate development and I ran all of the financial analyses and diligence for the Nextel side. There was one thing that especially stood out to me during my time there. Whenever we had a board meeting, the Chairman of the Board (Bill) would come into the office, walk the halls, and talk to everyone. Not just the executives, but everyone. Keep in mind we were a $30 billion company at the time. And he did this because he wanted to make sure what he was hearing in the board meetings synced up with what the employees were actually experiencing. That's something that always stuck with me. No matter what company you're in, or how big you think your position is, you really need to understand what's happening on the ground to really understand the whole picture. 
J: It seems to me that in a startup, the dynamic between management and workers is a little bit different. Have you had much experience with startups? What can you speak to the advantages and disadvantages of working with them?
M: I think it really depends on the individual and what type of environment they like to work in. If you're somebody that just wants to have a 9-5 job and not rock the boat, then a big company is going to be much more of an advantage for you. For me, personally, I really enjoy working in entrepreneurial environments. That has less to do with the size of the company, and more so the type of culture and how it operates. In an entrepreneurial company, it doesn't matter what your position or title is: you can make a meaningful impact if you really want to. That's what we have at X-Mode, and it's where I personally thrive. Nextel, when I joined it, was pretty small. While it grew enormously over the eight years I spent there, it still maintained its entrepreneurial feel. 
J: What would you say are some of the biggest challenges the data industry is facing right now? 
M: The biggest challenges right now are definitely related to privacy and consent. These questions obviously existed before the pandemic, but it has cast a different light on them. We've seen some of the ways that location data can help with the response to the virus — contact tracing and other solutions. In addition, the pandemic has drastically changed how all businesses operate, and location data is not exempt from that. The AdTech industry has especially been hurt. The companies that will survive are the ones — like X-Mode — that are able to diversify right now. That is, moving beyond AdTech and into other verticals, such as cybersecurity, fin tech, and gov tech.
J: Talk a little bit more about AdTech. Do you think these changes are going to last?
M: I think there will be some lasting changes. It's not just about what happened to AdTech because of the pandemic, but also what's happening in the wake of evolving privacy legislation; GDPR and CCPA, for example. That's just the beginning. What's smart is that X-Mode is trying to be a part of that conversation. Similar to the companies that were severely impacted  because of greater concentration in AdTech, you also have companies that were nowhere close to compliance on user consent and privacy. X-Mode is playing a whole different ball game. We're not reacting to new legislation; we've been building in privacy precautions for years, way before we even needed to. The rest of the industry is playing catch-up with us. That's a nice position to be in.
J: What would you say gives X-Mode its value? 
M: I think it's definitely both the product and the team. As I mentioned before, the focus on privacy is huge. Especially right now as more and more people are taking a closer look at how this industry operates. Establishing trust right now is absolutely vital, and X-Mode is doing a lot of work to accomplish that. 
Another big strength is diversity. The company is working hard to get into different customer segments, not just the typical AdTech use cases. I'm talking about smart cities, financial solutions… I was telling Josh that this industry is changing so much, there's customers we are going to have 12 or 18 months from now that we haven't even thought of today. That's what's really interesting and exciting about this company and the industry as well. 
The other side of that is the management team itself. If you talk to investors about how they decide to get involved with a company, they'll say they're just as interested in the team as they are in the business itself. They're investing in people, not just ideas, and they're looking for someone who is passionate, driven, and fearless. And that's the perfect description for Josh. The one thing that I could tell right away, even after just meeting him, was how passionate he was about the business. 
J: What do you like to do when you're not working?
M: Not working? There hasn't been much of that lately (laughs.) My wife and I have got three kids, so even when I'm not "working," I'm still on the job. We spend lots of time going to sporting events, hiking, skiing… and sometimes I just like to play soccer and basketball with the kids. One thing that's happened during the pandemic is that the basketball hoop in our driveway has gotten infinitely more use. The kids are out there now and I'm out there pretty much every day.
J: That covers all of the questions I had today. Thanks for taking the time to talk with me today. Good luck with everything you're working on, I hope it goes well.
M: Thank you!
Thank you, Mike! At X-Mode, we work hard, we grow together, and we are driven by teamwork. Does our office sound like a place you'd fit in? Check out our careers page today to see if there are any positions with your name on them.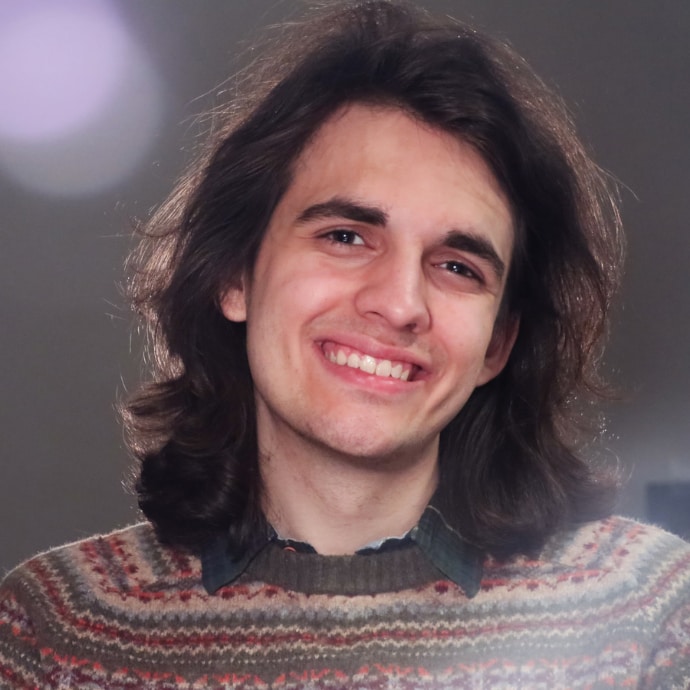 Joseph Green
Writer
X-Mode