Employee Spotlight: Tiffany Islek, Contract Specialist.
Learn the truth about what it's like to work at X-Mode, the privacy-conscious location data company, from our Contract Specialist, Tiffany Islek.
It takes a lot of hard-working people to build a company as effective and game-changing as X-Mode. While we stay busy raising the standard for privacy and quality in location data, it's also important to pause and celebrate all of our talented, delightful team members that make everything possible. With no further ado, please enjoy our monthly employee spotlight on our Contract Specialist, Tiffany Islek
Joseph Green (Content Manager): What is your position at X-Mode, and what do you do on a day-to-day basis?
Tiffany Islek (Contract Specialist): My official title is Contract Specialist. I work on the Operations team where I draft and manage a variety of legal documents. From vendors providing services to X-Mode to working on publisher and customer facing agreements as it specifically relates to privacy and data licensing. Long story short, I review all the contracts going in and out of X-Mode.
J: Do you like working with the operations team?
T: I do, actually. It's a very collaborative team, and I love that. It doesn't matter what your title is, we're all willing to help each other out. At a lot of other companies, managers wouldn't necessarily participate directly in negotiations or work with customers; it's nice to know that the higher-ups here still take the time to get to know individual team members and get involved in the day-to-day work.
J: What drew you to X-Mode originally?
T: It came down to two main factors, first being the company environment. It really does feel like a family, working hard together to help the company grow. Second, the ability to learn the ins and out of location data privacy was also an important factor for me. At the end of the day, I knew that I loved working with contracts, but I was looking for a company that also wanted to make a positive impact on the world – location data is honestly an innovative and powerful tool.
J: How has working at X-Mode helped you learn and grow in your career?
T: At X-Mode, I have learned a tremendous amount about location data privacy, which I honestly don't think I could have gotten anywhere else. We're in such a unique field of tech-law, we are constantly questioning ourselves on how to be better and implementing changes that align with our company mission to stay privacy conscious. The knowledge and experience I have gained working in privacy related tech-law is really invaluable.
J: What has been your proudest professional achievement since joining X-Mode?
T: I would have to say that my proudest achievement is mostly tied to the privacy work I have done working closely with our COO, Jamie. She has been a wealth of information, and the way she prioritizes X-Mode's goal to remain privacy conscious has been inspiring to witness. Almost every company has their goals and mission written on paper, but it's been refreshing to actually see a company actively working hard to stay true to our word, especially as privacy legislation continuously evolves.
J: Do you feel there's a difference working at a startup like X-Mode,versus a larger company?
T: Coming from a very large organization, while it may have its perks, I wasn't able to see the impact my work had on the organization as a whole. In order words, I could never see 'the fruits of my labor'. At X-Mode, when you do complete something, you can see how it impacts the company immediately. That's one of the big advantages of working at a startup, I think, is that you have ownership and your work doesn't get lost in the shuffle.
J: What are some of your favorite memories of your time at X-Mode so far?
T: One of my favorite memories is the engineering retreat. I've talked to the engineers a lot over slack and email, but it was really nice to actually get to know each other in person. We even played super smash brothers together! it's always nice to bond in person, and put a name to the Slack profile pictures.
J: Okay, now for a really important question: What TV show are you watching right now?
T: I'm watching "It's Always Sunny in Philadelphia" right now, and I'm very shocked at some of the jokes they were able to get away with. I keep thinking "if this aired today, this would not fly." I love the show, but the humor definitely pushes the boundaries.
J: What's your favorite place you've ever traveled to?
T: Right before I started at X-Mode, I took a week and a half vacation to Dubai. and that is the coolest place i've ever been. 
I loved it! I went skiing there, I went to the desert… it's such a beautiful city. I'm Middle Eastern, and I love my culture, so it was great to get to visit. I can't always go to Lebanon or Syria where my family is from, but it was really nice to get close. Plus I have some cousins there so I got to visit them!
J: When are you at your happiest?
T: I'm at my happiest when I'm traveling, especially impromptu traveling. I always take a day or two when I'm going somewhere just to have no itinerary. I wander and see where the road takes me. If I see a museum or a cool spot I'll check it out, but I make sure not to have any concrete plans. 
J: Do you have any secret hidden talents?
T: Not sure if this counts, but I am very good at packing luggage! I make a great system so that everything I need is easy to reach, and very organized. I put comfy clothes first, then a fancier outfit, then PJs… I'm not good at loading boxes into a car trunk, but when it comes to strategizing a suitcase I'm an expert.
J: Finally, what is a motto or mantra that you live by?
T: Work hard play hard. Everything needs a balance in life. I'm always sure to work hard, but having fun is important to me too. That is basically my motto.
Thank you, Tiffany! At X-Mode, we work hard, we grow together, and we are driven by teamwork. Does our office sound like a place you'd fit in? Check out our careers page today to see if there are any positions with your name on them.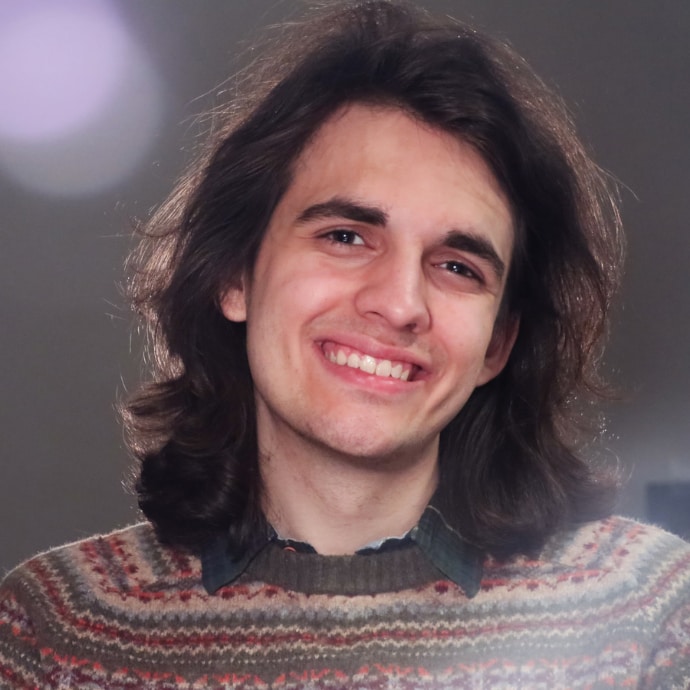 Joseph Green
Writer
X-Mode